SKAKAVAC
Prvo su pitali moj jezik
Potom moja religija.
Naučila sam skrivati svoj identitet.
Ljubavnika, moje misli.
Malo po malo naučila sam se tajnovitosti
Tami, jedinstvenosti.
Poput mrava koji
Sklanja se iza lista
Da pobjegne od utapanja u poplavi
da ne bude zgnječen pod
slonovim nožnim prstima.
Postala sam skakavac. Kasnije,
skakčem s jedne grane na drugu
naučila sam ležati nisko.
Naviknla sam sakrivati svoje
Frustracije
Šepajući sam dočekala univerzalni prostor
nakon dugo vremena.
Uprkos tome, ljude volim više od svega
Moj list postaje tanji
Zbog masakra
Pokrivajući strah na sebi dok ga krvavim
Ne znam koliko sam puta ubijena
Ne curi krv već ljubav.
...
GRASSHOPPER
First, they asked my language
Then my religion.
I learned hiding my identity
My lover, my thoughts.
Thus and so I have learned secrecy
Darkness, oneliness.
Like an ant which
Takes refuge behind a leaf
To escape from drowning in flood
And being crushed under the
Elephant's toe.
I became a grasshopper. Later,
Jumping from one branch to the other
I learned to lie low
When I was used to hide my
Frustration
I have greeted the univercal space limpingly
For such a long time
Nevertheless I love people more than anything
My leaf is getting thinner
Due to the massacres
Covering the fear on myself while bloodying it
I don't know how many times I was murdered
Not the blood but the love is leaking
*****
****
YOU MADE MY EVENING, THANK YOU
you made my evening, thank you.
the day started by creeping
drew to a close by flying
you embroidered my dreams
poetry is a little child:
you tie love to its heart
and it writes spaces and planets,
bathes the worlds that breed blood
and it feels the rainbow's pain:
as the wheel rotates from pebbles to stones
from rocks to steel emptiness,
you can tell the noble from degenerated
the short from the tall, the dot from the hyphen
and after a while they become the same:
the creeping and the flying
you made my evening, thank you
the day started with a whisper
came to an end with a scream
you oozed from the thick and infinite life
with the very thin lines of compassion,
you varnished the rebel hands of my mind
in the spiral of assurance
you turned a dark day into a heaven
thank you.
you wove with an everlasting hand and heart
the modern lines of the infinite goodness.
I, not being myself, took refuge in a dimensionless frame
like societies without dreams
these roots, these twigs in my body
are the suns, leftover from you
the fire I scraped off from your night
are my wings
my wings are your hands
you made my night, thank you
the day started as a particle
ended in eternity

Translate: Mesut ŞENOL
***
THE SPACE AND I
my mother had a craving for
the space
while i was in her womb

for this reason
the emptiness inside of me
never ends

Translation from Turkish: Baki Yiğit
****
PEACE
once again a massacre, again on my feet
I am alive since there is a hope.
I have trouble
like being alive
since auschwitz
the world war I
changed nothing
the world war II
and even vietnam
my pains are constantly growing
my pains are constantly growing
I was hitler, I buried the jews
I killed the natives in Vietnam
and the suckling babies in gaza
I became americanized
I killed all the time, I can kill again
I am a human being on my feet, freedom
ballad seems to be my enlightenment
I am on my feet since there is a hope
I compose poetry I am a barbarian poetess
I draw the pictures of the daisies
I have my rules, my constitutions
I am the world longing for peace
yet arranging everything according to war
I am expecting peace
I am expecting peace.

Translation from Turkish : Mesut Şenol
***
MOSES

I couldn't tell anyone else:

my darling is an eagle, who believes
his heart is a seagull, sometimes is a lover
sometimes not. when I die, the azrael
will know, on my grave
everyone will see an eagle and a seagull
Oh, my darling, still only,
will only be visible to me

I couldn't say my darling.
he is sometimes the sky, sometimes not
those who try to get rid of it on me
I fed stubbornly,
my darling is an eagle. who believes
his heart is a seagull. one day, of course.
he's gonna teach me to fly.

I'll give my soul to him
not to azrael. Oh, my God. that is
a revolution too, darling is
gonna bury me inside himself.
I couldn't tell anyone else:

Translation from Turkish: Nisa Leyla
****
BIYOGRAFIJA: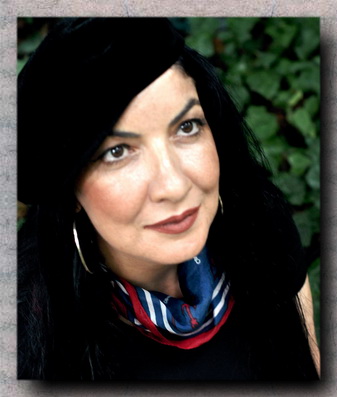 Nisa Leyla was born in Iskenderun, Hatay, Turkey in 1972. After completing primary and secondary education in Iskenderun, she graduated from Çukurova University, Faculty of Economics and Administrative Sciences in Adana. Later, she held management positions for five years, and served as an English teacher for three years.
In her poetry, she focuses on social issues, inspired by real life. She also writes love poems, socialist and lyric poetries.
Her poems appear in all major magazines in Turkey such as: Varlık, Yasak Meyve, Sincan İstasyonu, Şiirden, Şiiri Özlüyorum, Mühür, Papirüs, Deliler Teknesi, Ihlamur, Kuşak Edebiyat, Kurşun Kalem, Kurgan Edebiyat, Hürriyet Gösteri, Şiir, Yeni Adana, Yaşam Sanat, Patika, Yeni Dönem, Tay, Afrodisyas Sanat, Temrin, Ring Edebiyat, Ekin Sanat, Şiir Saati and more of the same. Her poems published abroad Turkey in several countries of magazines. She also writes short stories and fairytales for children. Her poems have been taken place in: the anthology of Minimal Stories from 252 Authors by Remzi Karabulut, the book of The Gates of Poets by Adil Okay, the anthology of World Poetry Yearbook both in 2013 and 2014 in China, the anthology of Çukurova Poets by Mustafa Emre, the anthology of Literature Platform Yearbook by Turan Karataş, the anthology of Mühür Publishing Yearbook. The Poem "My dress Hanging, There" was performed in Franz Kafka Finishing Thesis in Turkish Poetry.
In 1991, she has been the third best poet in the Poetry Contest held by Yeni Adana newspaper. One year later, in poetry contest of Iskenderun Festival. she has been the best poet of the year. Lastly she won the award of Mevlüt Kaplan Literature Contest 2015 and she invited some international festivals in and out of Turkey and she has been award with her poem; "PEACE" by the 5. International Literature and Poetry Contest of Galateo City. She has been award with her book "HAYAL DİVAN" by ENVER GÖKÇE POETRY CONTEST 2017 in most importent contest in Turkey.
She is also a member of Writers Union of Turkey, member of Turkish Literature associations, Council of Europen Writers, Pen Writers Association. Now she is living in Istanbul, Turkey.
Her books:
Dar paçalı dizeler (Verses wıth narrow flares) Yazılı Kağıt Publishing, 2014, Ankara
Yokoluş Bir Sözcükse (extinction if a Word) Yasak Meyve Publishing, 2015, Istanbul
Sihirli Değnek (Magic Wand) (for children) Mühür Publishing, 2015, Istanbul
Adana Rüyası (Adana Dream) Heyemola Publishing, 2017 Istanbul
Hayal Divan (Dream Divan) Öteki Publishing, 2018, Istanbul
KNSINFO/23.7.2021.god.